Denkurian Pronouns
Personal Pronouns
| | | | | | | |
| --- | --- | --- | --- | --- | --- | --- |
| person/gender/ number | nominative | accusative | dative | genitive | instrumental | possessive |
| 1sgN | te | tes | tem | tev | ted | tevi |
| 1sgM | tu | tus | tum | tuv | tud | tuvi |
| 1sgF | ta | tas | tam | tav | tad | tavi |
| 2sgN | che | ches | chem | chev | ched | chevi |
| 2sgM | chu | chus | chum | chuv | chud | chuvi |
| 2sgF | cha | chas | cham | chav | chad | chavi |
| 3sgN.ANIM | ini | nis | nim | niv | nid | nivi |
| 3sgM.ANIM | inu | nus | num | nuv | nud | nuvi |
| 3sgF.ANIM | ina | nas | nam | nav | nad | navi |
| 3sgN.INAN | athi | this* | thim | thiv | thid | thivi |
| 3sgM.INAN | athu | thus* | thum | thuv | thud | thuvi |
| 3sgF.INAN | atha | thas* | tham | thav | thad | thavi |
| 3 Indef. "one/people/they" | atho | athos | athom | athov | athod | athovi |
| 1pl/excl | dai | dais | daim | daiv | daid | daivi |
| 1pl/incl | chedai | chedais | chedaim | chedaiv | chedaid | chedaivi |
| 2pl | fai | fais | faim | faiv | faid | faivi |
| 3plN.ANIM | ilai | lais | laim | laiv | laid | laivi |
| 3plM.ANIM | iloi | lois | loim | loiv | loid | loivi |
| 3plF.ANIM | ile | les | lem | lev | led | levi |
| 3plN.INAM | athai | thais* | thaim | thaiv | thaid | thavi |
| 3plM.INAM | athoi | thois* | thoim | thoiv | thoid | thoivi |
| 3plF.INAM | athe | thes* | them | thev | thed | thevi |
| 3sg.reflexive | me | mes | mem | mev | med | mevi |
| 3pl.reflexive | mi | mis | mim | miv | mid | mivi |
| reciprocal | – | vis | vim | viv | vid | vivi |
For the nominative forms that come in pairs, the first (long) form is usually more emphatic. Personal pronouns of any form may be made more emphatic by being followed by the pronoun pari which agrees with its preceding pronoun in case, gender, and number.
*When the 3p inanimate pronouns appear in the accusative case along with a personal pronoun in the dative case, they appear as a clipped form without the initial th- and attached hyphenated to the end of the dative pronoun: chem this > chem-is "it to you"
Possession
The possessive forms can be used as standalone pronouns, determiners that precede the possessed noun, or in conjunction with an article and following the noun.
Neti ban tevi nyaf.* / Neti ban se nyaf tevi.
this-NEUT be-3SG my-NEUT cat.NEUT / this-NEUT be-3SG the-NEUT cat.NEUT my-NEUT
"This is my cat."
*This is the most common use of the possessive determiner
Nite nyaf ban tevi.
this-NEUT cat.NEUT be-3SG my-NEUT
"This cat is mine."
Articles
Definite Article: si – "the"
| | | | | | |
| --- | --- | --- | --- | --- | --- |
| | nominative | accusative | dative | genitive | instrumental |
| N.SG | si | sis | sim | siv | sid |
| M.SG | su | sus | sum | suv | sud |
| F.SG | sa | sas | sam | sav | sad |
| N.PL | sai | sais | saiv | saiv | said |
| M.PL | soi | sois | soim | soiv | soid |
| F.PL | se | ses | sem | sev | sed |
Indefinite article: yagi – "a, an, some"
Negative article: vegi – "no"
Partitive article: eski – "some (of the)"
The indefinite, negative, and partitive articles are declined as the definite article. The indefinite, negative, and partitive articles can also function as standalone pronouns.
Demonstratives/Other pronouns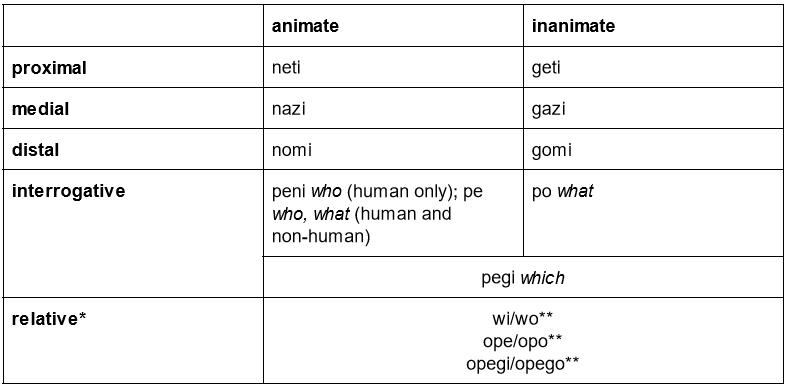 Subordinating conjunction/complementizer: gos ("that") [historically related to the stem of the inanimate demonstratives *g- + accusative -s]
Comparative conjunction: god ("than") [historically related to the stem of the inanimate demonstratives *g- + instrumental -d]
"Whose" – pevi (interrogative, from pe); wivi/wuvi/wavi; opevi; opegivi/opeguvi/opegavi (relative, from we, ope, opegi respectively)
The above demonstratives and other pronouns also decline like the articles.
*There are three relative pronouns, wi, ope, opegi. wi and ope are equivalent, and opegi is a bit more formal. Ope and opegi are derived from prefixing o- to interrogative pronouns**Neuter relative pronoun wo/opo/opego for abstract ideas, concepts, or entire phrases/clauses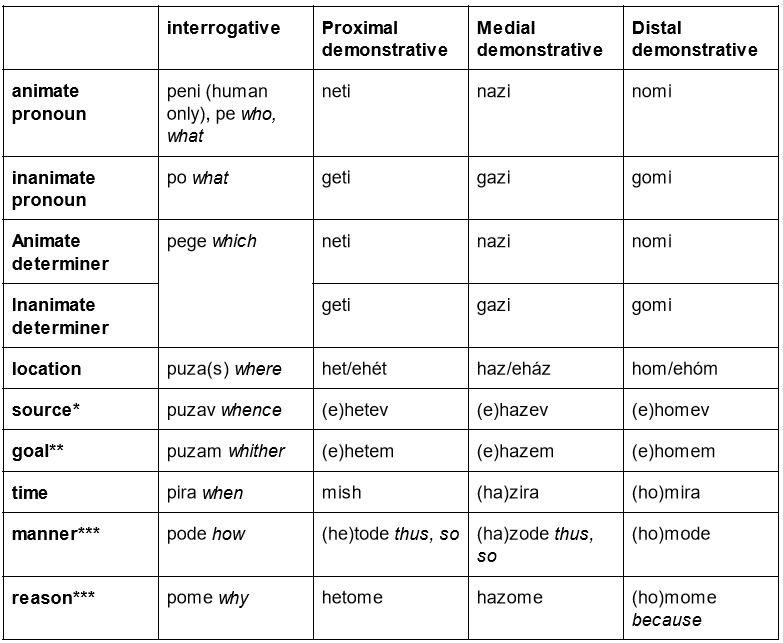 pege which above should be pegi
*Source ending from genitive -v
**Goal ending is from the dative -m
***Manner and reason endings are related to the instrumental -d and dative -m endings respectively.
Several of the forms above have alternative forms. Usually the longer form is for emphasis.